Which Girls of Paper and Fire character are you?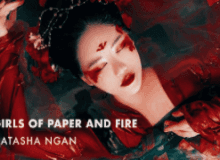 This quiz will reveal which character you are from the incredible New York Times best seller - Girls of Paper and Fire. Plus I hope you appreciate the pictures I used for each of the characters. Leave a comment if you think it's a good match.
Summary- Each year, eight beautiful girls are chosen as Paper Girls to serve the king. It's the highest honor they could hope for...and the most demeaning. This year, there's a ninth. And instead of paper, she's made of fire.
Created by: Selena Kyle