Which FNAF animatronic are you?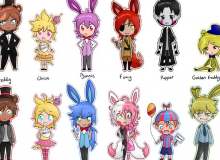 Welcome to the ultimate Five Nights at Freddy's experience. Before we fix you up to join the crew... I would like to know more about you. I mean... we are going to be spending a lot of time together.
My name is Ballora. I will guide you through this quiz. Pay no attention to what he tells you... he is trying to trick you. Who am I talking about? His name is Wiliam... Afton. Quick! Hide in here! Take this quiz. I will be right back. The creator of this test is a HUGE troll though.
Created by: Ballora