Which Fnaf6 Character r u (Salvagable)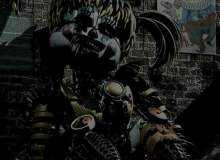 Well you been picked up at the alley to be salvaged but you dont get your identity intill you are invited complete these qestions to get you identity!
All salvagable robots avilable in this quiz! so quiz away participant and have, some, FUN! yeaaaaaaah! maybe you will have fun or maybe you will not dosent matter just play it and see my genius m8!
Created by: fazbearlover