Which Female Harry Potter Character Am I?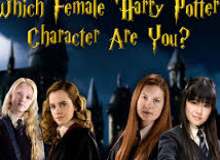 Today is September 1st, and you know what that means! BACK TO HOGWARTS! I thought it was the perfect day to release my forth and fifth Harry Potter-themed quizzes. This quiz will tell you which female Harry Potter character you are most like. Obviously, there are a lot of female Harry Potter characters and I can't fit all of them into one quiz, so I've selected seven of the most popular as the results.
For guys, I have a version nearly identical to this one titled 'Which Male Harry Potter Character Am I?' Well, I hope you enjoy! And don't be disappointed if you get a character you don't like, because you can always take the test again. Also, there may be some serious spoilers ahead, so if you like to be surprised, I would probably leave now.
Created by: goodgirlo