Which Female Cartoon Heartthob are You?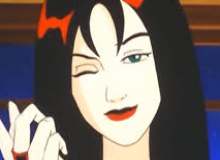 Do you remember the first crush you ever had? As children we mostly grew up pumped up with Saturday mornings cartoons. From Danny Phantom, to Scooby Doo. As we grew up we realized that we were more than just a little fond of some characters, and certain characters stood out more than others.
This quiz takes some of those iconic female characters we all had crushes on as a kid and poses on simple question.. which one are you? With dozens of iconic characters, we chose 12 of some of most memorable cartoon crushes to help you find out which one you would be.