Which Elephant Personality Type Are You?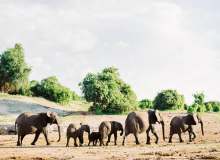 Elephants? Iconic. What do we know about elephants? Big. Crunchy skin. Eyelashes that deliver the ABSOLUTE MOST. What else do we know about elephants? OH, RIGHT. THEY HAVE INCREDIBLE PERSONALITIES.
Research suggests that there are multiple BIG personality types found within elephant herds. Each plays a key role in how their family copes with threats and adversity, like starvation or drought. How do you fit into the family?
Created by: Black Mamba