Which Dream SMP member are you?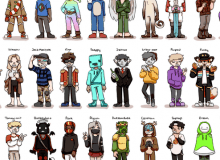 Ever wonder which Dream SMP member your most like? Yup you did because you clicked this page. This quiz includes Tommyinit, Tubbo, Ranboo, Wilbur, Captain Puffy, and Niki Nihachu.
Have fun with this quiz that probably has many typos and isn't very accurate but whatever. This is my first time making a quiz and it was initially only going to be available for my friends.
Created by: Sage