Which syndicate member are you? (DSMP)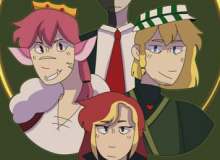 This quiz is to determine which syndicate member you are (Nihachu, Technoblade, Philza, and Ranboo). Just keep in mind these results may not be accurate and other quizzes WILL give you different results.
This is my first quiz and is kinda rushed. I was mainly focusing on getting it long enough so please don't mind the fact that it isn't very good. Anyways, I hope you enjoy taking my quiz!
Created by: ApplePi