Which Dear Evan Hansen Character Are You?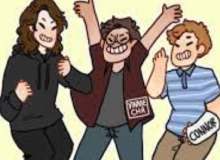 Love Dear Evan Hansen? Think you're similar to one of the characters? Well then, take this quiz to see which character you're most like! ( disclaimer: might not be the most accurate. )
Possible results may be: Evan Hansen, Connor Murphy, (the insanely cool) Jared Kleinman, Zoe Murphy or Alana Beck! Hope you enjoy the quiz, please rate and comment!
Created by: imsoclueless