Which Curtains character are you?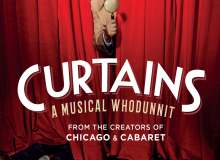 Putting on a musical is murder - literally! While Lieutenant Frank Cioffi tries to solve this case we'd like you to take your time and find out which of the characters you are most like in personality.
Answer all the questions below and find out which of the many characters you resemble in this musical mystery whodunnit. Be careful though - your answers might drop you in it!
Created by: Curtains of Curtains website
(your link here more info)