Which Black Butler character are you?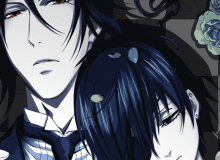 I create a Black Butler quiz! I love Black Butler and it's a great anime. Unfortunately I only did four results so don't get mad at me ok? Now let's talk a little about the anime.
Black Butler is a brilliant anime about Ciel and his perfect demon Butler. You can see in the picture above. Ciel sold his soul to him so Sebastian would help him get revenge on whoever killed his family. If you watched the anime great! If you didn't watch it.