Which Beat Bug are you?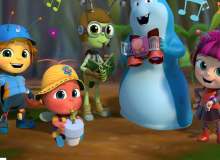 Have you ever watched the Netflix show Beat bugs? Have you ever wondered about which one you would be if you were one? Jay, Kumi, Crick, Buzz, and Walter. Which one are you? You'll find out if you take this quiz!
Quick reminder before you start: choose the YOU answers. Don't be like "Crick is my favorite so I'm choosing the most Crick like answers." DON'T do that. Choose the answers that best describe YOU. That way, it'll be more surprising when you get your final score.
Created by: Clara