Which AU sans are you?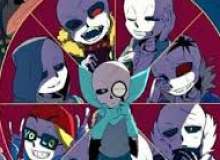 10 simple questions, 10 simple answers. Answer them, and you'll find out which au sans you relate to the most! I made this for amino 'cause I was bored
This only let me add 10 outcomes, so I apologize if it doesn't have that many. It includes: Ink, Error, Swap, Fell, Dream, Both forms of Nightmare, Cross/killer, Fresh, And L-st.
Created by: KiwiBerry