What Wings Of Fire Tribe Are You?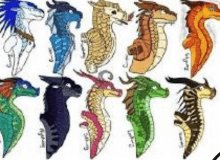 In this quiz you will find out what WoF Tribe you are! Clay and his friends have grown up under a mountain, secretly raised by the Talons of Peace to fulfill a mysterious prophecy. The five young dragons are destined to end the war that's been raging between the tribes of Pyrrhia -- but how they'll do this, none of them knows.
thanks! :3 tysm! ... The dragons of Pyrrhia are divided, and only the five dragonets of destiny foretold in an ancient NightWing prophecy can unite the seven warring tribes in order to bring peace and prosperity to their world. The books written by Tui T. Sutherland tell their story — come along for the flight and feel free to contribute to the Wiki along the way!