What Warrior Cat Rank Are You?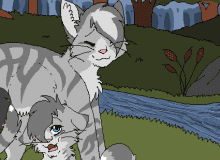 Answer the questions honestly otherwise the quiz will eat you. Just kidding! But seriously do answer honestly or I will have to destroy you! Mahahahaha!
Mahahahahahahahaha! Bwahahaha! See ya! Bye. What are you reading this for? I will break the fourth wall and stare at you! What? Hey! Kid! Want a free pikachu... err bye?
Created by: StormFeather