What Royale High Set Are You? (Missing SE, SCB, SF and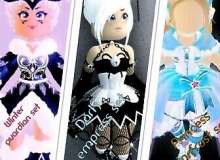 ~Have you wondered which ROYALE HIGH SET you are?~ This very creative quiz will fin which set you are the most like but instead of asking you general questions, we will fit you to a set by your response to my very own story.
This quiz does have the Shadow Empress Set, Spring Cherry Blossom Set, Summer Fantasy Set and the Winter Guardian Set. I sincerely apologise as there can only be 10 results. The story is written by the creator, (AKA, Me!!), Alyssa. Some credits will go to Vera, my best friend, Hazel, my ex-best friend that is now kinda rude to me (These are not their real names as I am too lazy to get their permission) and finally YOU!!
Created by: Alyssa C. Rose