What popular horse breed are you quiz (For equestrians only)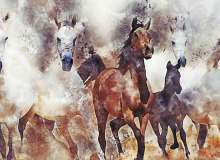 Welcome to my quiz! If you've been wondering what popular horse breed you are, this is the right place to be! You will answer 21 questions, some about horses, others about you and some are pretty random.
Your pleasure is of the utmost importance to me so please comment anything you think is worth commenting ( THIS QUIZ IS SOOO BAD e.t.c) if you liked the quiz, please post it on any social media you have. Thx, Enjoy!