What Minecraft Manhunt Star Are You?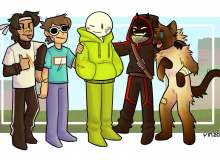 Welcome! Take this short quiz to find out what Minecraft Manhunt star you are! Contestants are Dream, Sapnap, GeorgeNotFound, BadBoyHalo, and Antfrost.
This quiz will be updated if more Manhunt stars are introduced. Socials: @Intedity on Twitter, @oNestle#2344 on Discord, and that's it! Enjoy the quiz!