What Madrigal Kid from Encanto Are You?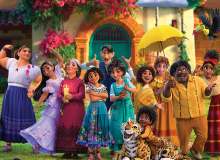 Have you ever wondered what Madrigal Kid you were? Well, take this quiz to find out. If you are also wondering what Madrigal Adult you are, take my quiz. It's called "What Madrigal Adult from Encanto Are You?" by Adora.
If you were wondering who you will get, the options are Isabella, Dolores, Luisa, Camilo, Mirabel, and Antonio. I hope you get who you want! For the most accurate answer, answer honestly. Please like, comment, and rate!
Created by: Adora