What kind of sweater are you, like, spiritually?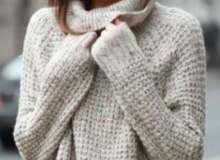 Hoodies, turtlenecks, pullovers...sweaters are a beautiful thing. Soft, warm, and cozy, they always have our backs. Are you like me, waiting all the rest of the year for sweater weather?
I, Pearlflight the majestic, poet, artist, and writer, spent all day crafting a quiz to determine what kind of sweater you are, like, spiritually. It was a day well spent. Now get out there, and discover your sweater self!
Created by: Pearlflight