What is your season family?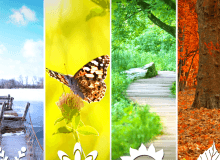 This is a quiz to find out what season suits you best in the Lionheart Crew. It only has twelve questions, so don't worry-it won't take too long! :) Have you ever wondered what season is best for you? Which one makes you perfectly happy? There do, after all, have to be four seasons in the year, but which one is right for you?
Remember, this is just for fun. I'm not saying that this is what you are. You might get the "Summer" result while all your life you've thought you were more of a "Winter" type. Have fun and enjoy!
Created by: Lulu of The Lionheart Crew
(your link here more info)