What is your ancient weapon?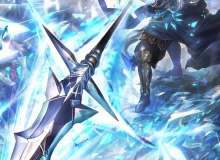 You are the leader of your land. You and your people are living in peace when suddenly your archenemy sends a message that within a short time he will attack your land and kill everything living. You are heart broken by the incident.
In an attempt of protection, you travel to his Homeland to fight and defeat him in order to protect your land from his wrath. Now come and undertake this journey to see which weapon you could get after the battle.
Created by: Ninjawarrior120