What Gravity Falls Character Are You?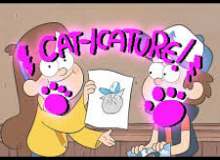 hey so, some info, i drew all the pics for the result except wendys and the one on the actual quiz page, and i forgot ford. sorry bout it hunny. anyways, that was just a little
notice, the real purpose of this quiz is to find out what gravity falls (main) character you are. i dunno how accurate this will be but whatever :\ so..ye!