What Dragonet of Destiny are you?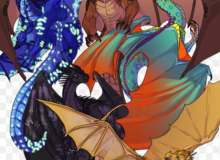 Hello! Thanks for clicking this quiz! If you haven't read the first five books of WOF then be warned: there are spoilers! Come back when you've read them!
Have you ever wondered what Dragonet of Destiny you are? Well now you can know (If this is the first Dragonet of Destiny quiz you've stumbled apon)! Keep in mind that EVERY question effects your answer. Enjoy!
Created by: Ivydream