What Dragon Tribe Are You?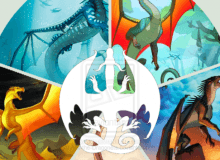 Are you into dragons and other mythical creatures? This quiz is for you! The dragons from this quiz are from the book series "Wings Of Fire" By Tui T. Sutherland. I you like that book series, I DEFINITELY suggest my quiz!
There are ten questions and ten possible dragon tribe results. I worked hard, so please no hate. I hope you pick and get the power of WINGS OF FIRE!!!
Created by: Misty the Rainwing