What do the Dragonets of Destiny think of you?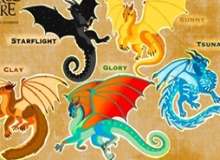 Hi everybody! This is my FIRST QUIZ! *cheers* Ok, so today you will be meeting... bum bum bum buuuuh! THE DRAGONETS OF DESTINY! Cool, right? Yeah. Are you excited or not?
If you chose not, please go away, because this quiz will be (hopefully) FUN! Whether your favourite dragonet is Clay, Tsunami, Sunny, Glory or (my personal favourite ;D ) Starflight, you will see what they think of you! LETS GOOO!
Created by: Anaira