What Demon Slayer : Kimetsu no yaiba character are you ?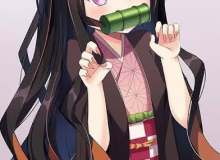 The story takes place in Taishō-era Japan. It follows protagonist Tanjiro Kamado and his sister Nezuko Kamado as they seek a cure to Nezuko's demon curse. Tanjiro and Nezuko become entangled in the affairs of a secret society, known as the Demon Slayer Corps, that have been waging a secret war against demons for centuries. The demons are former humans who sold their humanity in exchange for power, they feed on humans and possess super natural abilities such as super strength, magic and regeneration. Demons can only be killed if they're decapitated with weapons crafted from an alloy known as Sun Steel, injected with poison extracted from wisteria flowers, or exposed to sunlight. The Demon Slayers, on the other hand, are entirely human, however, they employ special breathing techniques, known as breaths, which grant them superhuman strength and increased resistance.
This quiz Is about which Kimetsu no yaiba aka Demon Slayer character are you ? Take this quiz and find out , even if you are a Demon Slayer fan, whether If you get Tanjiro or some other character .
Created by: Kpop Anime queen