What clown are you out of 5 clowns?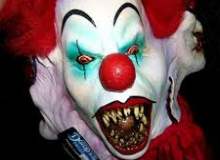 Hello! I am Spec,this quiz i have made so i can prank my friend! I also really don't want to do this because i dunno... But there's a site i thought of the names and the story! Do the quiz! Thanks,if you did do the quiz! :)
Some facts about clowns: There's even a story behind the iconic red nose: It can be traced to a member of the Fratellini family named Albert, who originated the Auguste clown archetypecomplete with the world debut of the bright red clown nose. Now make like a clown car and stuff as many of these facts in your head as you can.