Which Fairy Talent Do You Have?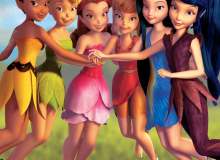 Have you ever wondered what it would be like to be a fairy? What talent you would have if you were living in the land of Pixie Hollow? Take this quiz to find out!
The possible outcomes are Tinker Fairy, Water Fairy, Garden Fairy, Light Fairy, Animal Fairy, Fast-Flying Fairy, Winter Fairy, and Dust Fairy. Which one do you think you'll be?