What Breed of Dog Should You Get?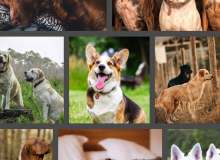 Hello, it's me again. For some apparent reason I've been on a quiz spree, making a bunch of quizzes. This quiz has 10 endings and each result is an informational paragraph. I did some actual research for once on each breed of dog and I'm sorry that I could only add 10 results.
Each ending is different and this took me a few hours to make, of course with breaks. I enjoyed making this. This quiz is some-what accurate and I hope that you enjoy it! The pictures were from Pexels and the quiz picture is made at BeFunky.
Created by: ChameleonLeap