What are your kits' names?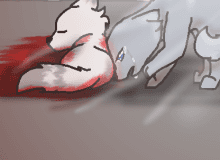 Hello! Welcome to my quiz. In this quiz we determine if you have kits and what they are named! This is a relatively short quiz, but can be helpful if you let it.
In order to receive an honest result, answer the questions honestly. There is a chance to receive kits that were born dead, but that is like a 1/5 chance so yeah. BTW: I drew that picture on FireAlpaca!!!
Created by: CrookedstarRules