Warrior cats: Untold tales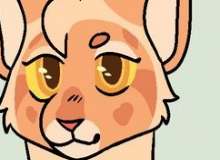 You are a kit named Morningkit. You have Untold tales to tell to the world! Make sure they are very interesting in this tale. the tale is simple but, dramatic a bit!
You are a yellow brownish tabby with yellow eyes. Morningkit has her own story to tell! Bad way or good way, who knows? You can use a fanfiction of this great tale with some of these parts, and some parts of your own!
Created by: Zoomi