WARRIOR CATS TRIVIA + LEARNING WHAT CLAN CAT FROM ARC 1!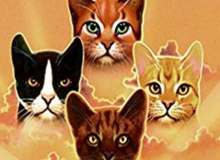 WANT SOME MORE WARRIOR CAT TRIVIA? I mainly did the early arcs for questions. Keep in mind that it doesn't matter if you get 100 or 17. It's fine either way cause...........
YOU FIND WHAT CLAN CAT YOU ARE FROM THUNDERCLAN IN ARC 1! You can become Firestar, Sandstorm, Bluestar, Graystripe, Tigerstar, or Cloudtail. Enjoy!!!!