The Ultimate Thomas the Tank Engine Quiz!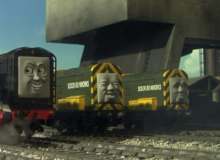 Do you know Thomas the Tank Engine? Like, really REALLY well? I challenge you to answer 16 questions of everything Thomas. Including Railway Series, Television Series, and more.
Are you a true blue tankie? Prove your knowledge to this quiz like a true brainy trainy fan. Go Go, Thomas! Thomas, you're number one! WHOO WHOO!!!!!!
Created by: Christian Meeks