Sunny Day; Are You Sunny, Blair, or Rox? || BlairStyle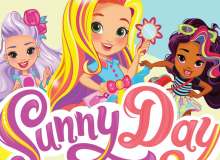 Sunny Day is an animated series about a hairstylist named Sunny and her best friends, Blair, Rox, and her dog, Doodle. Sunny solves problems, with Blair and Rox's help, using her creativity and determination.
Have you ever wondered which of the hair styling trio you are? Are you creative Sunny? High-spirited Blair? Fun-loving Rox? Answer a few simple questions to find out!
Created by: BlairStyle