Sleepover with piggy characters! Part 2?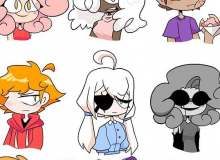 Hi, Olaf's here! and today, I made a quiz that is SLEEPOVER WITH PIGGY CHARACTERS! This is not only for girls and boys, Also for kids because i'm a kid!
You heard a loud noise and saw a girl, The girl invite you to her sleepover. Who are your sleepover friends? And what will they think of you? Take this quiz to find out!
Created by: Olaf's animation