How well do you know Prince Caspian?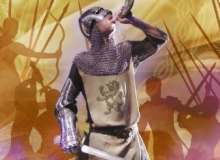 The Pevensie siblings travel back to Narnia to help a prince denied his rightful throne as he gathers an army in a desperate attempt to rid his land of a false king. But in the end, it is a battle of honor between two men alone that will decide the fate of an entire world.
So how well do you know Prince Caspian? Take this quiz to find out. Each quiz in this Narnia series consists of 20 questions that cover one of the seven books. Some questions are harder or more detailed than others, but don't lose heart if you get a lower score than you had hoped. We all have a lot to learn.