How Well do You Know Glitter Force?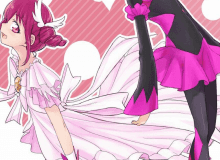 Iiiiiiiiiiit's Glitter Force! Come on, everybody! Test those skills and see how much you remember about my favorite Glitter Girls! Good luck and have fun!
This is a single-answer quiz, so make sure you think really hard before choosing your answer! If you can't get it right the first time, just come back later!
Created by: Clara Ford