How Well Do You Know Club Penguin?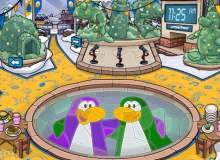 Hey! And Welcome to my amazing and FUN! Club Penguin Knowledge Quiz Game. You May Not Get A Perfect Score But Can Try To! And Make Sure To PLAY Club Penguin!!!
Do you know how many different puffles are throughout Club Penguin? A lot!!! There are Ghost Puffles, Frost Bites, and Even Dinosaur Puffles. So Come Play My Amazing Club Penguin Quiz!
Created by: Eddie of club penguin quiz gotoquiz.com
(your link here more info)