how well do u know the show the mandalorian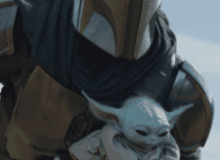 hi,this is a quiz that will be about the mandalorian!there r ten questions.U can check out some of my other quizes if u want and hopefully u get a good score on this quiz!
here is a random joke "knock knock""who's there?""boo""boo who?""u did not have to cry about it its just a joke!"ty u for taking my quiz and i hope u enjoy!
Created by: Eleanor