How much would you scare me? For girls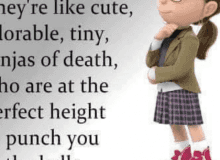 Would you scare me if we met in person? Would we be friends? Would you be an angel or a demon in my eyes? Take this quiz to find out who would be dominant in our friendship!
Answer questions honestly, and with whatever you think fits. Please don't forgot to comment, rate, and share if you like it! Hope you enjoy the quiz! Have fun!
Created by: scratchmaster