How much do you know about English horse riding?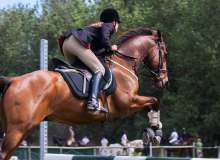 Hihihihihi. It's LouiseTheo, AKA the Smartest Person in the World. Kidding. I just hate Zoom school and am going bonkers. Anyway, please don't feel bad if you get a low score. Not many people know a lot about this stuff.
Also, please comment and rate because I need to know what you think of your result! I hope you like it, because I worked really hard on this quiz. Have a nice life, Chico. Peace. -LouiseTheo.
Created by: LouiseTheo