His badgirl -- Chapter 2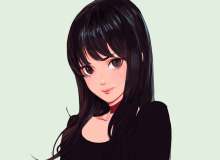 Ally doesn't like people and people don't like her. She doesn't do emotions. Betrayed and neglected, she formed a hard exterior. Ally is bad girl. But that's not the whole story. Ally is a spy.
She's never had any friends, never really been to school, and she wants to keep it that way. But when a new mission sends her to high school for the first time, she goes against everything she stands for. Leather Jacket and Motorbike They see her as the Badgirl, so what happens when she meets the Badboy?