Find your Warrior cats name and mate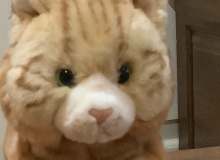 Hello! My name is Ashley and this quiz I have created is based on the famous bestselling book series called Warrior Cats, which is written by Erin Hunter. I highly recommend this series.
Did you know that warrior cats is a national bestseller book series. It is about the five clans, ThuderClan, SkyClan, ShadowClan, RiverClan, WindClan, and of course, the warrior ancestors, StarClan.