Do you REALLY know the Aftons? (FNaF)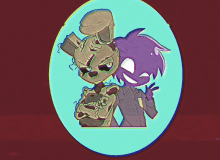 Hello! This is my fourth quiz, and I tried to make it as formal as possible, but idk if its good. This quiz will test your knowledge on the Afton family.
This quiz is welcome to anyone, FNaF experts, or noobs, or people that are just bored. I put joy into every quiz I make (except for one that I will not name) and I hope you will find joy in taking the quizzes (EXCEPT FOR THE ONE I SHALL NOT NAME). Enjoy!
Created by: FoxysPlush