Do you know Sofia the first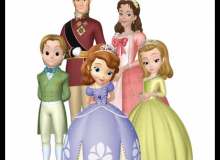 Hello everyone 👋 , I am creating a quiz on do you know Sofia the first, this quiz is really really easy. (Well if see Sofia the first). I hope 🤞 you like my quiz.
Sofia the First is an animated show about an 8-year-old girl who suddenly becomes a princess! This quiz was created at the behest of my three-year-old granddaughter, my very own personal princess.