Do you know Sofia the first.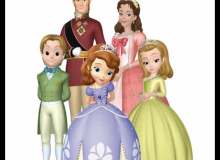 Do you love Sofia the First? Well you're about to find out!! No matter you age anyone can find this show adorable! There are so many great characters and plots for the episodes, you can't help but love it!
Do YOU think you are a real fan? Or is it just one of your kids or siblings favorite shows? I know for me it's the first one! Just a fun fact, I am Amber-Cedric and Cedric the Sorcerer now I'm CedricAmber for good lol. Enjoy my quiz....!