Could you be a NAVY SEAL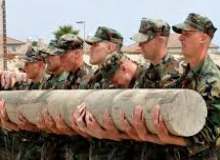 The NAVY SEALS are the most diverse, and the most challenging special forces group in the world to get into. They require you to be both physically, and mentally capable of surviving the horrors of war. They will make you go through hell to prove you deserve your trident. Do you think you have what it takes?
The test consists of only 10 questions with multiple answers that affect your score. Make sure you answer honestly, so you can get some personal advice from me based on your score. God speed, and good luck.
Created by: David Salmon of NAVY SEAL Official Site
(your link here more info)