Can You Ace This Hunger Games Quiz?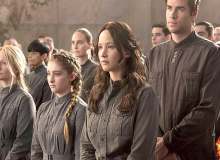 Well, here it is! The quiz you never knew you needed! Come and try it out. The questions are random, the deaths are depressing, and the food is cheap. If you've ever wondered how much you REALLY know about the Hunger Games compared to the rest of our community, now is the time to find out! 28 questions... (I'm not going to say may the odds be ever in your favor, too stereotypical) But I will say good luck!!!
When 100 people take this quiz, I'm going to add a section of SUPER HARD BONUS QUESTIONS!!! Just wait till that comes out... you'd regret missing it! I'm also open to suggestions for questions in the comments. Some of the people who do really well could get a special mention during the bonus section update, so give it your all! Special mentions go to 1st comment, 1st to get 100%, and funniest. Also there are honorary mentions. You can't get more than 1 award, btw :), and must be logged in.