Basics of Scottish History Quiz: Rogues and Villains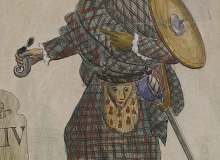 Scotland is a country that likes to celebrate its heroes. Our public spaces are awash with statues of William Wallace, Robert Bruce, Flora MacDonald, Robert Burns, and many other 'great' people from History. But this is only one side of the nation's story: for all its illustrious heroes, Scotland has also produced a plethora of villains. Plumbing the depths of human depravity, these men and women have ensured that, whatever its self-image, Scotland's story has been one of violence and wickedness at least as much as heroism and nobility.
But how much do you know about the darker side of Scotland's past? From bandits and witches to rebels and murderers, our quiz will test you on the dastardly doings of some of Scottish History's most notorious rogues from the Middle Ages to 1900. So dive in...if you dare.